The lack of blogs during the last few weeks is an indicator I guess – I've been aware I should have been blogging about the floods but hell, we've been busy!  I'm stuffed! Besides, it's everywhere else, in all the papers and news reports.
Also, being the techno-klutz that I am, my virtual assistant, Lyn, has been away and I don't know how to work clipboards and all that shit so she puts my blogs up for me!! How pathetic is that!!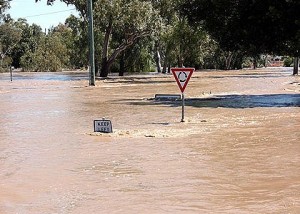 Yes, I nearly jumped out of my skin when I zoomed downtown in Dalby for a minute today and saw the creek up AGAIN, and the poor old shopping centre pumping water out of its underground carpark AGAIN AGAIN – third time in the past 3 weeks, they must be nice and shitty! Poor buggers. Fills it right up to the top – can you imagine? And the odd snake and other wildlife emerge at the top looking bedraggled and definitely not in possession of a cash card.
And there were the locals today, going about their business, hardly anyone standing, mouths agog, staring at the brown water roiling and rushing across the smaller of the two town bridges, and snaking into the underground carpark, and whooshing out of the valiant little 6" pump that does its best to stem the tide and fight the good fight for the underground car-parkers of Dalby (all of whom have, incidentally, I think, got their cars out in time; mad by now if they haven't).
Our occupancy has been fantastic during it all, although the water scare (lack of, due to all the town's boreheads being under water for a protracted period of time) was a bit hairy. The creek of my childhood, the Oakey Creek at Bowenville, flooded higher than ever in living memory. It was huge. We've had people stuck here heading west, stuck here heading east, coming in to help (SES & police) and now community workers ….. and, booking for the coming week, tradies. Who will be in demand and in clover for the next zillion years.
The consensus is that flood is worse than drought; drought damages lives and livelihoods, but not infrastructure. The losses of infrastructure through flood, especially the floods of the past few weeks in Qld, are breathtaking.
© Jane Grieve – www.janegrieve.com.au
Tags: Dalby, floods, Queensland