There aren't so many left these days, but those there are, are more precious than gold dust. There are two old blokes in particular who get together now and then in Warwick to share reminiscences about a story none of the rest of us can possibly comprehend in its enormity.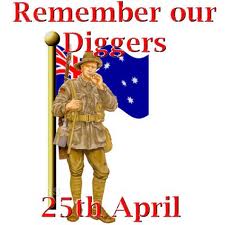 David Watt and Kingsley Locke have been mates for 73 years. They were born a couple of weeks apart in Warwick – were in the same class at the Warwick High School – and were together on a very wet Sunday night on 24th May, 1942, when a train disgorged them and a dozen other Warwick boys, all 18 and trembling in their boots, at the 29th Infantry Training camp at Goondiwindi.
"We were scared," says David. "We had no idea what the future held for us."
Transferred to Canungra Jungle Warfare School for a gruelling month's intensive day-and-night training, David and Kingsley ended up a couple of years later in Bougainville as signallers in the 26th Infantry Battalion AIF. They remember one night being on a beach, frantically digging with their steel helmets in an instinctive, but possibly useless in the circumstances, attempt to create cover.
Along with the rest of their platoon, they were supposed to be having some well-deserved R&R away from the action. But the Japs had worked out they were there, and were firing 20-pounders at their position.
What good would a small hole in the ground be if one hit you? Not much – but it made them feel better digging those holes!
One of these monster shells landed within a couple of feet of Kingsley – and did not explode. "God must have been saving me for the work I have since done playing the piano for The Happy Wanderers Band in Warwick for 35 years," chuckles Kingsley. But the horror of that moment, and many others during that time, is firmly etched behind his smiling eyes.
David  wasn't so lucky at 3am on Tuesday, 9th January 1945, when a bullet hit him in the chest while he was 'in our perimeter', anxiously watching for night sleuths bearing death. "Didn't see it coming," quips David. Indeed. He might have seen that it was more than likely to come, sooner or later.
So, here they are today, these old fellers, cobbers to the end; they have lived the good lives so many of their mates were denied, David and his wife Marjorie enjoying life at Regency Park Retirement Village, while Kingsley, now aged 87, still enjoys his well-maintained yard in Warwick.
What were you doing when you were 18, or 19, or 20? I'll tell you what I wasn't doing, and it's thanks to Veterans like David Watt and Kingsley Locke that I wasn't.
© Jane Grieve – www.janegrieve.com.au
Tags: Anzac Day