Australia's own Cattle King, Sid Kidman, routinely had the verandahs removed from each of the homesteads of his many pastoral holdings in the Australian outback.
And with good reason.  They encouraged indolence, by his estimation.  And by my estimation, they encourage indolence still.  And relaxation, and enjoyment, and social intercourse.  And the washing, actually.
Or mine does.
For many years I lived in my house sans verandah, and yearned for it to be otherwise. There had been good intentions by our predecessors, a fact that could not be ignored each time one of my babies fell out of one of the huge glass sliding doors that led to nowhere except ground level about 2 metres below.  Each time this happened, I patiently dusted off the child and mopped the tears, rudely cursing those good intentions, and citing in colourful terms that the road to hell is paved with them as well as liberal amounts of dried grass, dirt and guinea pig droppings.
And for many a balmy evening we sat inside our glass sliding doors, my children and I, watching the sunset, watching the lightning, watching the birds, watching the world outside, without so much as a breeze in our hair or the scent of jasmine and guinea pig droppings in our nostrils, and dreamed of the day when we could afford to build a verandah on the other side of the glass.
Life is a self-fulfilling prophecy.  Fate smiled benignly upon the small woodland creatures who were regularly disturbed by falling children below the glass sliding doors, and decreed that enough was enough. A carpenter friend wanted a racehorse.  We had racehorses to burn.  A deal was done, and our verandah slowly rose from the dust and guinea pig droppings.
The kids fell more regularly for a time, from bearers balanced on uprights dug into large, deep holes.  But there was a different, more jubilant tone to their wails. There was Hope, and hope waxes much more lyrical.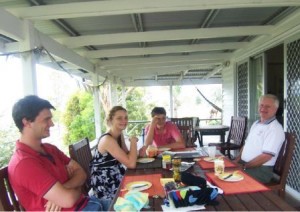 And with good reason.  Eventually, eventually, a 3-metre wide verandah took shape, wrapping itself around both sides of our living room, past the dining room and even giving access to the kitchen window for fresh supplies for indolent verandah incumbents.  I could have wept.  I did weep.  It was wonderful.  Somewhat spitefully, we built a cupboard between the two protruding glass sliding doors, and stashed lots of junk in there, which made us feel much better about past wasted opportunities.
Then we pulled the disused squatters' chairs out of dark, dusty corners of sheds and painted them up, the better to be indolent upon, on our verandah.  We purchased an extension table and lots of chairs, so we could share the delights of our verandah with friends and relations.
Everyone agreed that the view was marvelous, the breeze was marvelous, the difference in summer temperature inside the house was marvelous – in fact, that our verandah was doing everything a verandah was supposed to do.
Even the magpies have got into the spirit of things, organising parties of their own,  using our furniture. Sometimes these events – I suppose you could call them sing-sings – are catered, sometimes not, depending on our diligence at cleaning up after our own entertaining.
On a visit to Nimbin we purchased a set of prayer flags which now flutter in the breeze and give honour to the Gods of our verandah.  I discovered that I could hang the washing on the steel cables which were strategically strung to stop kids from falling over the edge, while not obscuring the view. A marvelous view, actually.
My mother said, "Ah.  The Grieves' Chinese laundry";  shades of old Singapore.  An exotic verandah, here in dusty Warwick!  Unscheduled guests and Jehovahs are met with Grieve smalls, and larges for that matter, but do I care? Never! The ease of drying the washing is yet another manifestation of the many, many joys of my verandah.
© Jane Grieve – www.janegrieve.com.au
Tags: verandah