I spend as much time as I can, reading.
It really is the most marvellous method of escape.
There is so much to read! There is so much good stuff to read, well-written and captivating; and that being the case, I have become very impatient in my endless quest for good reading entertainment.
There is always a pile of books on my bedside table. If one doesn't serve the moment, the next will.  They are ruthlessly culled, especially if they are poorly written by my expectations, poorly edited and presented – or just plain boring.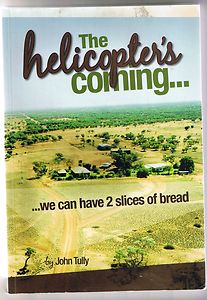 There's a book I have just finished reading which well and truly passed muster – The Helicopter's Coming … we can have 2 slices of bread – by John Tully.
I couldn't get my nose out of it.
One of the notorious Tully mob from Quilpie, John, the quintessential bushman, has obviously inherited the gift of the gab from his Irish ancestors, and carries the Writing Gene that is shared by his Durack cousins.
His branch of the family was left behind in Quilpie on the famous overland trek by the Durack brothers years ago. They have proliferated in the Catholic way, and are now firmly established in Australian outback lore. In his book, John Tully writes about the raising of the family of 8 sons and 2 daughters that he and wife Wendy created in the outback, during an era about which there has not been a great deal written.
Through his collection of very funny, sometimes poignant, and always evocative stories, John paints a lifestyle set in an almost-contemporary time frame … but in a world that is totally foreign to most of us.
The Tullys' is a lifestyle that demands self-sufficiency, camaraderie, raw courage, and quite extraordinary competence. In this world of ours where livelihoods are so streamlined and specialised that the changing of a light bulb or a tap washer is outsourced – never mind a car tyre – the bushman stands out for the range of his areas of competence.
The distances the Tullys and their neighbours have to negotiate for the most basic of human endeavours are quite breathtaking. The vicissitudes of their day-to-day life defy belief. Yet as John says "The bush is a hard mistress; it was here before we came and will be here long after we have gone … To survive we must accept it for what it is – with all its beauty, harshness and cruelty. Then and only then will we be able to live in peace and harmony with it."
I thoroughly recommend John Tully's book THE HELICOPTERS ARE COMING; it's an enlightening and well-written read. You can get a copy by contacting the Tullys on 07-4162 8485.
© Jane Grieve – www.janegrieve.com.au
Tags: Australian outback, John Tully, Queensland, Quilpie