Her Excellency Ms Penelope Wensley AC, Governor of Queensland, April 18, 2013
Jane Grieve and her family and friends who are here this evening, including members of the 9 Ante Portas Group, Executive Producer, ABC Landline, Mr Peter Lewis, CEO, Australian Stockman's Hall of Fame and Outback Heritage Centre, Mr Ben Maguire, Regional Sales Representative, Allan and Unwin, Ms Margaret Langviser, Marketing Manager, Mary Ryan's Bookstore, Ms Danette Smith, and Events and Media Assistant, Ms Kirsty Lee, Ladies and Gentlemen,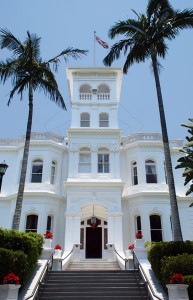 It is a pleasure to join you all in this appealing, welcoming venue of Mary Ryan's Book store, for this, the first of many launches of Jane Grieve's Memoir "In Stockman's Footsteps".
When I received Jane's initial invitation to do this, sent in her customary warm, breezy and to-the-point style, in an email suggesting that I might like "to drop by and say a few words", I was both relieved and pleased to see her choice of venue for the event. Relieved, because I have vivid memories of the extraordinarily crowded, 'impossible to move, get in the front door – or get a drink' location where I first met Jane and her fellow members of the talented, exuberant 9 Ante Portas Group, almost four years ago, at Gallery 54 in Latrobe Terrace (an unforgettable introduction!) and pleased, because not only is this venue a little larger, but because it is so perfectly suited to this occasion. Not only are we in a book store – one of a small chain that has been operating in South East Queensland for almost 40 years now – but we are in a book store that is independent, that is passionate about books and reading and storytelling and that wants to share that passion with others, that has worked hard to develop its own particular style and personality, especially by supporting community-focused activities, and which also attaches importance to promoting Queensland's history and heritage and to supporting Queensland authors, like the writer whose latest work we celebrate tonight. No wonder they are Queensland's favourite booksellers and were recognised as Queensland's independent retailer of the year in 2012.
And what an excellent match for someone as forthright, feisty and independent as Jane, who also has developed her own individual style and distinctive personality, someone who is so passionate about writing and storytelling and about her rural upbringing and heritage, and in this memoir has chosen to share both loves with us, whilst telling the story of an exceptional community project – a gift to the community – with which she was deeply involved: the establishment of that unique monument and tribute to the rural heritage that all Australians share (but not all know) situated in Longreach, in the heart of rural Queensland – The Australian Stockman's Hall of Fame and Outback Heritage Centre. (And it is wonderful that CEO Ben Maguire is able to be here tonight)
Sharing Jane's love of words, of word-craft and writing, her love of Australia and Queensland and her deep interest in our rural heritage, and wanting also to know more of the 'inside' story of the Hall of Fame's establishment, I was certainly interested to read the book and then by the proposition that I should launch it here in Brisbane, but my appetite to do so was whetted further because Jane seems to hold me partly responsible for its emergence. In that same, short email of invitation, she commented cryptically – "As I indicated to you at Longreach, I am not a one-book wonder" – recalling a conversation that we initially had at Government House, at an International Women's Day reception I hosted in 2011, when I enquired if she was planning to produce a follow up to her first, entertaining collection "Slippin' on the Lino" and then a subsequent exchange in Longreach, when she triumphantly assured me she had 'taken up my challenge'.
I am not sure that my polite query about her further writing ambitions and activities was meant as a challenge (a lifetime of diplomacy – more than forty years as a career diplomat – generally disposes me to careful communication!) but whatever its genesis, the production of this second book merits that sense of triumph and satisfaction, as you will discover when you read it. It's an appealing and interesting book – multilayered and imaginatively presented, telling many stories and offering many insights, presented in what Jane's followers and admirers – especially from her days as a journalist and columnist, would think of, I judge, as her signature style; a facility with language and a lightness of touch, combined with a commitment to ruthless self-examination and editing, self-deprecation and the rare gift of writing with humour (never easy – and rare to find someone who does it well). Using all these things, Jane carries the reader with her effortlessly as the angular tomboy with "hair issues" and the rich black soil of the Darling Downs between her toes grows into the restless adventurer who never stays in one place or one job long enough to accrue annual leave, and eventually becomes the woman who was to play such a pivotal role in seeing Hugh Sawrey's "vision splendid" realised in the creation of the Stockman's Hall of Fame.
It is a rich and very readable story of an adventurous life lived to the full in country Queensland and overseas, and of the creation of an Australian icon. It is valuable and will be valued for many reasons – the story of the battles to establish the Stockman's Hall of Fame is certainly an intriguing one – but for me the special appeal of the book lies in the way it conveys such a deep love of country and of rural life, summed up this sentence I selected from the book (P49): "Life on the land is like no other. There grows a deeply embedded sense of connection with the lifestyle and, through it, the land".
I believe that every reader, turning the last page of "In Stockmen's Footsteps", will come inexorably to that same conclusion, will feel that sense of connection and will rejoice that, while it has been possible to take Jane Grieve out of the bush, it has been impossible to take the bush out of the woman.
I thank Allan & Unwin and Mary Ryan Bookstores for their commitment to Jane as a Queensland author, and now have great pleasure in launching this book which I know will win many hearts among country Queenslanders, but which I hope will also find its way onto many city bookshelves, across Australia.
I am sorry I cannot conjure up tonight the beautiful sunset, the smell of gidgee and the flocks of corellas that accompanied the laying of the Foundation Stone, that Jane describes so vividly in the book, but with Jane's vivid descriptions and evocate descriptions to inspire us, we can imagine they are here, willing this latest venture towards its deserved success.
Ladies and Gentlemen, I present to you the Memoir "In Stockmen's Footsteps" by Jane Grieve. Please buy it – and enjoy it.
Thank you.
---
JJ, April 12, 2013
I have just finished your book. Congratulations on a great job so beautifully written. It really is a credit to you.
You have proven without doubt you have a way with words and have an incredible writing ability.
Well done!
---
Tina Merriman, April 14, 2013
Just letting you know that I gave your book to Pam for a present, and she rang me today to say that she couldn't put it down, and hadn't even bothered getting dressed!! She loved it and said it was beautifully written. I called in tonight and she was in the pj's, and had a few more pages to read!
She's a harsh critic, and wasn't just being polite. She wants to get another copy immediately, I think to lend out.
---
Gai Mylne, April 4, 2013
Jane I've just finished your book – I whisked it away from Graham the second he brought it home so his turn coming up.
I loved it, couldn't put it down and didn't want it to end.
What a life you have had. What an achievement ! Congratulations indeed. And what a wonderful 'high' to coincide with your 60th birthday.
Go Jane !
---
Camilla Galwey, April 2, 2013
Am adoring the book… so much is new and oh so interesting, yet I'm also loving reliving Lota etc along with you. It's been a joy. I downloaded it onto my Kindle while waiting for Amazon to send me my own copy …
---
Kerstin, March 26, 2013
I love your writing. You are eloquent, witty, perceptive, profound, poetic without licence and although I only had 5/6 years on the land soooo much feels familiar.
---
Ben Maguire, March 26, 2013
I finished your wonderful book last night – I could not put it down and completed it in just two sessions.
Apart from your wonderful way with words, it was a very personal and appropriate insight into your contribution to such an important piece of Australian history. Congratulations on the book – I think it is a great read and thoroughly enjoyed it.
I understand your feeling of not wanting to walk away from the job despite the challenges. I too, know there are far more easy challenges I could attend to in my career, but I do feel as though someone has to take it on and manage through the change with the right mix of passion and business skills. Your book makes me want to go and ride a horse right now – in fact I am competing at the campdraft in July which I cannot wait for.
---