Who'd ha' thought that a tiny town like Muckadilla would have such a secret gem in its midst!
Picture Muckadilla; 57km west of Roma on the Western Darling Downs, little more than a whistle stop on the Western Line, and a blink-and-you-missed-it sort of settlement that ranges itself lazily – and briefly – along the Warrego Highway, that innocuous piece of bitumen that leads to all places west (including Amby, Mitchell, Mungallala, Charleville, Quilpie, Eromanga, and, for the truly intrepid, Windorah, Betoota and Birdsville – names that all shriek of romance, bulldust and conquest) and all places north thereof (including Morven, thereby to Augathella, Tambo, Blackall and Barcaldine via the Landsborough Highway where it meets another western highway, the Capricorn along the Tropic of the same name, from Rockhampton).
Picture Muckadilla, its 20 or so inhabitants apparently sleeping on a Wednesday morning at 9.30am, the only sign of life being the occasional flicking of the ears of a sleeping dog and the shifting of the denim-clad backsides of a couple of bushies leaning into the engine of an old ute pulled up at the garage-cum-post office. The odd truck rushes past and through, and a car now and then, hurrying past and apparently blinking and missing, and then one by one dusty cars arrive at the Muckadilla hall and disgorge women with yoga mats under their arms and towels over their shoulders.
They tote their water bottles into the hall, the door closes off the morning sun behind them, and for all intents and purposes Muckadilla returns to emptiness. But with a difference.
Shirley the Yogi has arrived from Amby, and my first Muckadilla Yoga class is about to begin.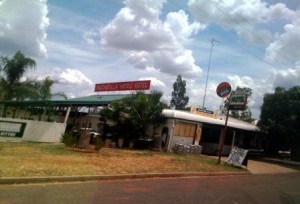 Now, I am no newby when it comes to yoga. I boast – sometimes, when it might impress, which is rarely – regular attendance at the classes of one Swami Sarasvati in Sydney in the '70s. Swami Sarasvati, in the way of yogis, swore to at least 120 years of living and looked 40. Shirley, on the other hand, does not mention her age but looks not a day over 55, and at that is more agile than most.  I discover later that Shirley is actually 80, which impresses me no end because I have to say that Shirley's yoga class at Muckadilla is up there with the best that I have experienced.
Shirley is trained in 4 of the disciplines of yoga, she explains, but she teaches a combination. And, she teaches it beautifully. We stretch and swivel and pose, stand on one leg and then the other. First we are cats and then we are cows, then cobras, then children, then dogs.
The tension in my shoulders dissolves as I roll my head from side to side, and then dissipates completely as we finish off with a relaxation that is so total that at least one of our number drops off into the deep sleep of the thoroughly exhausted. Of which I, by day 5 in the place time forgot, am not one, although the letting go of the stresses of the past year have brought about a certain lethargy that it will take more than a few more days to shake off.
Yoga Muckadilla style? Don't sniff, I would drive a lot further than a mere 22 km across gravel and red dust for another one; and will.
At $6 for a 1 ½ hour lesson I'd pay more, too.
© Jane Grieve – www.janegrieve.com.au
Tags: Muckadilla, Queensland