One phone call, and suddenly the world is a different place.
I worked in Toowoomba for Bill Durack, Architect, youngest living son of his generation of the Durack Dynasty, in 1978 for a year.
He was a truly delightful human being, in the Durack mould; erudite, educated, witty, gentlemanly, thoughtful, interested, interesting.
I had just returned from a year overseas, and was living at home with my parents while I collected the threads of my life. The job with the Durack, Brammer & Stekhoven architectural partnership was a simple one, as receptionist. I shared the job with another girl, Sue.
It was a run-of-the-mill reception/secretarial job, made colourful by the different personalities of the various partners.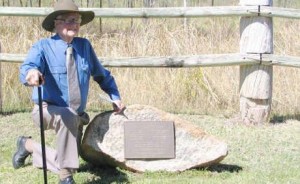 Bill Durack – Mr Durack to me – was the most thorough person I had ever met. Every day he kept a minute diary on his desk calendar, in red, written two lines to one line space of diary page in perfect handwriting. Every week he dictated a letter to his "Dear sister Mary" or his "Dear sister Elizabeth" in Perth, in which he told all the family news to which, naturally, we his secretaries became privy by default.
I marvelled at his capacity for communication, his love for his sisters and his family.
In his office – the front room in the Lindsay Street practice – every single surface of every table and bench was covered with neatly-stacked piles of papers, letters, brochures and architectural drawings. He knew where everything was, and could lay his hand on anything at will. He was alone in that remarkable feat, and one would never have dared to move anything around for fear of dispossessing him.
One day he was in the drawing room plying his art, and because of the heat had left the windows of his temporarily-vacated office open. A willy willy arrived in Lindsay Street unannounced; it came in Mr Durack's window, had its way with his stacks and stacks of papers, and left without ceremony through the front door, leaving in its wake a plethora of papers and paraphernalia (and a few things it had collected along the street before coming in) in absolute and total disarray.
Sue and I sat with bated breath, not daring to move out of our seats, as the papers and dust motes and leaves from the giant cedar tree outside slowly settled in the hallway. Mr Durack rushed out of the drawing room and stood at the door of his office and this is what he said: "Oh dear, oh dear, oh dear."
Oh dear, but he was a lovely lovely man!
This morning, he died. He was 92, or 93 or 94. Old, anyway.
My great-aunt Paddy McCallum had been a great friend of Bill Durack's family. Paddy was a nurse, once the school nurse at the Toowoomba Grammar School, who took jobs looking after families whose mothers were 'lying in' in hospital with a new baby.
Paddy (Pat Pat to me) used to do this for all the new Durack arrivals, of which there were in the end 5 sons to Bill and Noni. Bill loved to tell me the story of how Paddy, who was a writer, said to him once, "One day I'm going to write a book and I'm going to call it Men I have Lived With!" ! – this was of course a shocking concept in those days, and true to form as Pat Pat used to enjoy saying shocking things.
Aunty Paddy, who was still alive in 1978, was delighted that I was working for Mr Durack and used to explain to me the family connection through her friendship with Bill and Noni and their family.
After a year, I decided to move on. Town life did not suit me, and I decided to go 'bush' or 'walkabout.' But in the meantime I had met, through Bill Durack and my job in his practice, RM Williams, and learned about the proposed Australian Stockman's Hall of Fame for which Bill was acting as proxy for his 'dear sister Mary' on the fledgling board. I was very interested in the idea, and had expressed my interest and appreciation to RM on various occasions when he came in to see Bill, bearing proofs for the first Vision Splendid brochure, and the constitution, and such things.
RM heard that I was planning to leave. He sent an emissary to tempt me to take on the role of secretary to the new Stockman's Hall of Fame company. That is another story, as eventually I accepted although what I really wanted was to go bush. RM promised me horses and riding and I decided to take it on for a brief time, just to try it and see. 10 years later …………………
Bill Durack would never believe me that RM didn't steal me from him. He brought it up every time he made a speech in my presence, the last of which was only last year at a Durack, Brammer & Stekhoven reunion lunch in Toowoomba. I'm really sorry that I could not convince him of the facts of the matter, but those indeed are the facts! It was town life that sent me away.
I have always kept in touch with 'Mr Durack'; he has followed my life and I have followed his, and retain a friendship I value greatly with his family, in particular Matthew and Jenny.
I am very, very sad that his time has come. Australia has lost a valuable part of living history, another member of an irreplaceable generation, and a particularly special person.
© Jane Grieve – www.janegrieve.com.au
Tags: Australian Stockman's Hall of Fame, Bill Durack, RM Williams, Toowoomba