Having got down and dirty in the matter of drenching over 700 extremely large and feisty sheep today (of which I personally drenched at least 350, possibly more), I have to say that I will be sleeping the sleep of the blessed tonight.
It has been some years since I ventured into the mad world of such physical labour; and I have to say, I love it. Even though I am exhausted.
Drenching the sheep involves donning as much protective clothing as the wardrobe allows – heavy jeans mainly, and a long-sleeved shirt, and dark glasses and of course a hat, and gloves if you have them which I didn't, the better to stave off the myriad burrs and sharp things that lodge themselves in sheep's wool.
And the boots and leggings that did such faithful service along the Kokoda Trail came in extremely handy, protecting my legs from kicks and bangs and more prickles.
Even though the sheep in question belong for the most part to the Dorper breed, which is supposed to be without wool, there were enough cross-breds amongst them to carry a fair bit of prickle-infested wool; and tonight, my hands and arms and legs are full of scratches and burrs that bear testimony to my gargantuan effort. Not to mention bruises and sore bits from bumps and bangs along the way.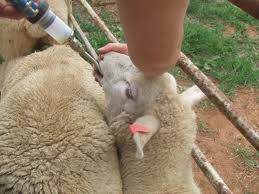 Not every sheep sees the value of being drenched. It is a situation that is imposed rather than impressed upon them. The drencher, armed with a drenching gun, gets into a sheepyard race which is crammed solid with many individual 70kg packages of indignation, who voice their protest by either putting their heads down under the bellies of the others (which requires considerable physical wrangling to dislodge, both of the host with the protective underbelly and the unwilling drenchee), or leaping dramatically onto the backs of the ladies in front, stubbornly defying my gentle efforts at coaxing and convincing that it is all for their good. More wrangling required. Great for the abs and the pecs. A little tough on the lower back.
Sheep die very quickly from worm infestation. It's not a nice death.
So, 700 or so large Dorper ewes are striding around Frosty Creek tonight knowing they have been through something – they are not sure what or why – and blissfully unaware that they have been saved from an unspeakably unsavoury end.
© Jane Grieve – www.janegrieve.com.au
Tags: Australian outback, drenching, sheep