In a world that now largely expects that bought things are best, and that made things are make-do, it never ceases to amaze me how people in Australia's outback actually do make things, really, really good things.
This they do using skills passed down to them, or exchanged between each other, or garnered from the many rural courses available from time to time in the bush; sewing, for example; cooking; artistic things.
I guess their time is not distracted by the time and social constraints that town people labour under. That, and that country dwellers have a culture of using their time to the fullest.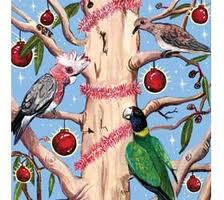 Evidence of their talent will be on display in November in Toowoomba, at an annual exhibition called BUSH CHRISTMAS.
This year Bush Christmas will be held at the Downs Club in Mylne Street, Toowoomba (excellent opportunity to have a thorough snoop around that one-time bastion of masculine domination) – free off-street parking and delicious coffee & refreshments.
Fabulous place to do Christmas shopping in one fell swoop. And it is worth looking on the website to see a selection of what will be there; you could perhaps pre-order an item that almost always sells out because of its popularity …… the Christmas Hamper. Totally yum, totally cost-effective.   And honestly, Bush Christmas is worth a visit in person. It will have heaps of other beautiful gifts as well.
More info:  www.bushchristmas.com
Friday 19 November – Sunday 28 November
Downs Club, Cnr Margaret & Mylne Streets, Toowoomba
© Jane Grieve – www.janegrieve.com.au
Tags: Bush Christmas, Christmas shopping, Downs Club, Toowoomba